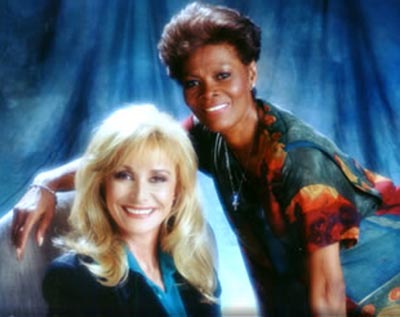 Can psychics be trusted? – I had a conversation with my dear friend, Linda Georgian, a couple months before she passed away. My guess is, to this day, Linda is still the most televised psychic in the world.
She was the founder of Psychic Friends Network. On top of being a great psychic, she had some high profile clients such as Donald Trump, Ed McMahon, Bill Clinton and many other big names.
In the Western World, Linda single-handedly brought psychic based services into the mainstream. Through appearances on shows such as Montel, The Howard Stern Show, and Larry King Live, Linda was able to re-brand psychic ability as a skill that could be used to help anyone facing challenges in life.
If you've ever seen or talked to a psychic before, Linda probably deserves some of the credit for making it possible.
I had the honor of being trained by Linda. We also worked together for several years. Many days, we would spend 12 -14 hours working on a project. Spending so much time with one of the most famous psychics in the world was one of the most valuable, positive learning experiences I've ever had.
I am telling you these things in hope that it will give a little more weight to what I am sharing here.
How Many Psychics Are Actually Using Psychic Ability?
In our last conversion, Linda asked me "Dale, how many of these so-called psychics do you think actually have real psychic ability they use with their clients?" I told Linda my guess was about 1 out of 1000. I could sense her doubt to my answer – Linda was always easy for me to read because she put out so much energy in everything she said and did. So I asked her "Linda, what do you think the number is?"
With some hesitation, Linda said she thought it was more around 1 out of every 10,000, if even that.
Linda and I went on to discuss the severity of fraud within the present-day psychic industry. We talked about how most of the psychics out there are merely giving "cold readings" in which they ask a bunch of questions in the beginning of the reading or make general statements such as "I see relationship issues around you" or "I see that you are dealing with depression."
Training Is A Major Key To A Psychic's Level Of Accuracy
Linda and I were both in situations where, at one point, we managed teams of professional psychics. We both had experience screening, hiring, training, and sometimes firing psychics. So we both knew most of the techniques the scammers use.
At one point in our conversation, Linda asked me what I truly think separates the real psychic from the phony psychic. Without even thinking about it, I stated "their training." Linda agreed with me.
In both of our experiences of managing psychics, we acknowledged that legitimate training was the one thing that truly made a difference when it comes to a psychic's accuracy. This stands above being "a third generation psychic" or someone who was supposedly "born with the gift" or any of the other ridiculous claims and assertions you see people making these days.
Linda and I both credit our success to our training. I personally know Linda studied with a group of healers and psychics over many years before she launched off to stardom. I had the privilege of meeting some of her teachers.
Of course, I was lucky enough to receive my metaphysical training from a former military intelligence project. At one point, this program operated on five different US Air Force bases. I guess you could say my education is "military grade."
Without the training I went through and without the teachers who guided me step by step throughout the development process, I wouldn't have the abilities I use every day in my Intuitive Counseling service.
Look at it like this: If you needed surgery, you wouldn't go to a surgeon who was self-taught by books, who was "born with the gift," or who just decided to proclaim him or herself as an expert. I'm not sure about you, but I wouldn't want that person cutting into me with a scalpel.
But every day, thousands of people call or see "professional psychics" who have no formal training and who offer no evidence of their psychic ability. These people, who rely on psychics, use the information they are given to make serious, life-altering decisions. And these decisions are in the big areas of their lives: their love life, their careers, their families, and their health.
How Can You Determine If A Psychic Can Be Trusted?
As you might have guessed, I can say that a psychic's training is probably the most important factor that should be considered when you are searching for a legitimate psychic. Certain professions absolutely require the training of an individual before services are offered; professions like lawyers, doctors, accountants, and engineers. Psychics should be one of these professions as people make such important life decisions based on the information they receive.
Along with training, a good money-back guarantee is another great indicator that a psychic can be trusted. With my Intuitive Counseling service, I've always offered a money-back guarantee.
In the beginning of a session, before you tell me anything about your life, I use intuitive ability to focus in and get a sense of what's going on. I usually pick up the "hot issues" you are facing and the questions you currently have in your life. I give you the opportunity to realize my abilities are real when I tell you specific details about the past and present – details that I could only know by using genuine psychic/intuitive ability.
A few minutes into a session, I give you the choice to proceed forward with the session or to end the session and receive a full refund.
Not only does my guarantee help ease any concerns you may have about the session, it make a statement. With my guarantee, I am basically saying I am confident enough in my abilities to where I know you will be satisfied with what I share with you. I am so confident in my abilities that I am going to give you the CHOICE to proceed forward with the session, with absolutely no risks to you.
Most "psychics" don't offer this guarantee. Why? Because they can't. They simply don't have the true ability to offer this type of experience. Right from the start, they are planning on giving you a "cold reading" and manipulating you to pay for the whole session.
From this point forward, consider these factors when you are trying to decide if you can trust a psychic or intuitive.
Can psychics be trusted? To answer, I would say sometimes yes and sometimes no.
A good psychic can be of great help. They will help you "fill in the blanks" so you can make the best decisions in the most important areas of your life. They will help you understand the feelings and motivations of other people in your life. Most of the time, they will see the probable future outcomes of a situation, so you know the best path to take.
But you want to make sure you invest your time, energy and money into someone who truly has the ability to help you. This way, instead of disappointment, you get the clarity, guidance, and confirmation that you deserve.