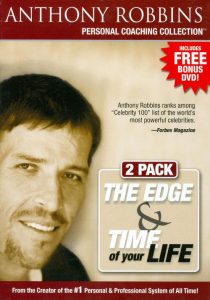 I purchased my first Tony Robbins book 30 years ago. I was highly impressed with his work then; and I am even more impressed with his work now. As a professional in the personal development field myself, I've researched the top experts throughout the years. I have yet to see anyone who compares to Tony.
I think the main reason why he is so successful is his approach to modeling – which is applying techniques that are already proven to work. In other words, Tony's work is based on his research of people that are already successful in their relationship, career, finances, emotional health, mental health, and dealing with tragedies that sometimes show up in life.
The evidence of the success of Tony's approach is seen with his endorsements – Deepak Chopra, President Bill Clinton, Andre Agassi, the Pentagon, the band Aerosmith, just to name a few. He is also the top choice of corporations when it comes to employee personal development training.
A while back, I purchased several of his coaching CDs. Even with all the training I've had over the years, I still believe it's important to take steps to improve my life. Anyway, I was amazed at how affordable the audio CDs were while still providing such a wealth of information.
I'm impressed with the training CDs because they provide step-by-step practical approaches to dealing with the challenges in life. It wasn't the same played-out pep talk or positive thinking clichés that you see with so many other approaches. I've been going through the CDs and listening to them and taking notes, and then going through them again to catch even more.
Even with all of my years of experience and training, I'm finding new techniques and perspectives that I hadn't been exposed to before. The course is easy to follow and the techniques don't take a degree in psychology to apply in your life.
Here are some of the highlights of the training:
Steps to maximize your energy and help restore your body to its natural state of health and vitality.

Approaches to develop deep and lasting relationships for profound fulfillment.

Techniques to train your mind and body so that the most powerful emotions you have — your certainty, your faith, your passion, and your determination — are as automatic as breathing.

Methods for seizing opportunities for achieving financial freedom.

Techniques for discovering an inspiring life purpose that will add a greater depth of meaning to everything you do.
In no way am I saying that the training CDs are a miracle pill, but I can assure you that you will get a lot of valuable information that you can immediately start using to improve your life.
The course can give you what you need regardless of what level of achievement in life you have already accomplished – whether you're at the bottom and dealing with poverty, emotional suffering, or broken relationships, or whether your life is already going smooth and you are just ready to take it to the next level.
Check out the training and let me know what you think:
Tony Robbins Personal Coaching Program
You can also see tons of other powerful resources on the other sections of Tony's site. Just go to the main page to get started: www.tonyrobbins.com