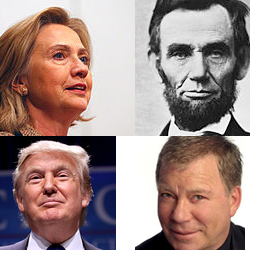 Famous People And Psychics – This may come as a surprise to many of you. Great leaders and famous individuals have sought the insight of psychics throughout time. This includes celebrities and people in great positions of authority, ranging everywhere from world leaders to business icons.
In my own work as a professional psychic, I have provided services to CEOs and Executives of Fortune 500 Companies, numerous celebrities, individuals in several branches of law enforcement and military, high-profile religious leaders, and high-ranking government officials.
In the United States, major decisions have been made with the help of psychics; decisions that have shaped our country at a core level. Numerous US Presidents have openly admitted their reliance on professional psychics:
Abraham Lincoln

Bill Clinton

James Garfield

Teddy Roosevelt

Woodrow Wilson

Harry Truman

Lyndon Johnson
John F. Kennedy

Warren G. Harding

Calvin Coolidge

Herbert Hoover

Franklin Delano Roosevelt

Richard Nixon

Ronald Reagan
The cultural icons we look to for entertainment, guidance, innovation, and inspiration have often professed their reliance on psychics when making decisions in their personal and professional lives. Psychics have often been the "secret tool" in the journey to success and achievement. Here is just a handful of the some of the famous people you may recognize who have openly claimed to rely on psychics:
Donald Trump

Hillary Clinton

Nicole Kidman

Brad Pitt

Deepak Chopra

Rumer Willis

Demi Moore

Kenny Rogers

Regis Philbin

William Shatner

Suzanne Sommers
Ed McMahon

David Hasselhoff

Gael Greene

Dick Clark

Ashton Kutcher

Liza Minelli

Jordana Brewster

Madonna

Linda Evans

Jennifer Aniston

John Kennedy Jr.
The point is that many great leaders and role models, throughout time, have used the advice of psychics in times of peril. It's because a good psychic can help you to see the best path to take to get the results you desire. A professional psychic can help you "fill in the blanks" so that you can make better, more informed decisions.
Whether it's about your romantic life, professional life, family, or health, a good psychic can help reveal to you those unknown details; those important details that can make all the difference in the world. A good psychic can give you the guidance that you just can't get from any other type of professional, counselor, friend, or family member.
I encourage you to do what many of the great leaders and cultural icons have done throughout time. Take advantage of the insight a professional psychic has to offer – Especially when you are at an important crossroad in your life.
Why should you unknowingly stumble through the darkness?
Whether it's through my Psychic Counseling service, or the service of another psychic whom you trust, I encourage you to claim the insight which is waiting for you. We are here to help!