Psychic Voice - Listen To Your Inner Voice In Challenging Times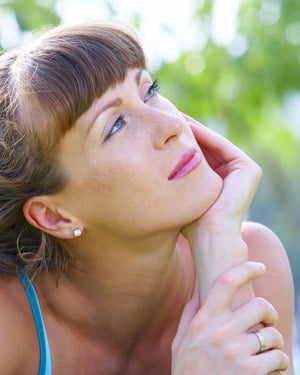 Receiving the guidance of a legitimate professional psychic can be very helpful, if not critical, when you are facing challenges in your life. This is true especially in situations where immediate help is needed.
For nearly 30 years I have helped people face and solve their most troubling issues through my Psychic Counseling Service.
But as a long term goal, developing your own inner psychic voice gives you the ability, not only to effectively solve challenges yourself, but to create the life you have always dreamed of - the ideal career, home, romantic relationship and excellent physical health.
Accessing your inner psychic voice isn't about witchcraft or crystal balls. It's about the ability to use psychic perception (often called intuition, clairvoyance, gut feelings, hunches, etc) as a tool to gain greater understanding and direction in your life.
Your Psychic Inner Voice - More Powerful Than You Might Think
Most people view life and make decisions based on their intellect (beliefs, thought processes) and emotions. A person's intellect and emotional makeup results from the knowledge acquired in that person's lifetime. A lifetime is not a long time - you can only read a limited number of books and have a limited number of experiences. So to base your decisions only on what you have experienced can be very limiting.
"The intellect has little to do on the road to discovery. There comes a leap in consciousness, call it intuition or what you will, and the solution comes to you"
- Albert Einstein
Rather than the relying on the limitations of the intellect and your emotions, your inner voice allows you to tap into a universal force that goes beyond personal experience. This force has been called many things by many people. Carl Jung, one of the forefathers of modern psychology referred to it as the "Collective Consciousness." Modern day physicists have coined the term "Unified Field."
In this fascinating video, see scientist John Hagilin talk about the universal intelligence which we are all a part of, whether we realize it or not. Hagalin received his PhD from Harvard University in particle physics:
On another note, the great classic, Think and Grow Rich by Napoleon Hill, is the all time best selling book in US, with the exception of The Bible. Napoleon Hill dedicated a whole chapter to the inner psychic voice, which he refers to as "The Sixth Sense."
I highly recommend Think and Grow Rich as a good introduction into developing Psychic Ability. Mr. Hill boldly states "The sixth sense is the faculty which marks the difference between a genius and an ordinary individual."
Practical Use Of Your Inner Psychic Voice
Accessing your inner voice is not something that's limited to séances or casting love spells. It has little to do with the ideas that the movies and TV paint for us. It's really a deeper part of us that can be integrated into every aspect of our lives to bring more fulfillment, excitement and understanding. It's a natural innate ability that we all have access to, it's just that some us block it out. Many animals even rely on this sixth sense as an important survival tool.
Your inner voice can help you see the dangers and opportunities in the present and in the future before they ever happen. This helps you to make better decisions toward creating the life that you want. The best way to explain what we are talking about is to give a couple scenarios where the benefits of psychic Intelligence can be seen. Take a look at the following examples and ask yourself how you might be able to similarly apply Psychic Intelligence into your own life.
Scenario One: You are single and you meet a new potential romantic/life partner
If relying just on the intellect or emotions in these types of situations, it's easy to base your decisions on the image/act that this person portrays to you. When meeting someone new, most people base their ideas on what this new person says, their tone of voice, what type of job they have, how much interest in us that they seem to show, and other factors that can be deceiving. And we wonder why there is currently an estimated 75 percent divorce rate in the US.
By using your inner psychic voice in this scenario, you gain the ability to see this person's underlying motivations and feelings. You can even track ahead 6 months into the future and see how this person will be treating you. All of these things can be seen regardless of what is revealed to you on the surface levels.
Scenario Two: You have major challenges with your career and wonder what steps to take
In this type of situation, our intellect and emotions can be our own worst enemy. Thought and emotions are a result of past experiences. But you aren't in the past anymore, you are in the present, which is always changing and evolving. For example, when we are dealing with a customer or a boss, when we rely on our intellect, we often fail at seeing the true needs of others, we aren't able to see the right times to take action, and we fail to bring innovative solutions to the challenges in the workplace.
As we rely on our inner voice, we know the right time to make a move. We can sense how to best communicate with others and we become the individuals that others depend on for solutions.
Every successful CEO or Visionary I have met was highly psychic. They may call it something else and they may not realize it themselves, but the abilities are there. Without the inner voice, the success would not exist. Remember, the intellect can only take you so far. There comes a point in achievement where you have to be able to rely on a greater intelligence.
So you can start to see how your inner voice can be the one factor that has the most influence in virtually every area of your life - relationships, career, finances, personal growth, family, your health, and more. And remember, your inner psychic voice has nothing to do with reading people's body language, deductive reasoning, or making educated guesses. It's about receiving insights from a greater intelligence/force that exceeds far beyond any of the five senses.
For example, as a professional psychic myself, when I focus on a client a 1,000 miles away, I get insights by seeing visual images in my mind. I pick up on the emotions and intentions of the client and people they are involved with; and sometimes I clearly hear the names of the people involved. I receive these insights before ever knowing anything about the client. The intellect doesn't allow these types of experiences - you have to go deeper than this.
How Do You Develop Your Inner Psychic Voice?
This is where you have to be careful. There are many books and classes relating to psychic development, but much of what you find can be misleading, ineffective, and distorted. It's important to understand some basic principles. Psychic Development isn't about learning some trick to read palms, learning how to read Tarot Cards, or wearing a special charm.
True psychic development is more the side effect of cleaning yourself up on the deeper mental and emotional levels. It's about keeping your focus when a situation arises, rather than allowing knee jerk reactions to occur as most people do. It's about being able to reach a deeper stage of awareness that goes beyond the surface level thinking and emotions.
There are many methods. Albert Einstein was known to sit in a rocking chair for hour and stare into the night sky. This is how he claimed to receive many of his insights. He also used his dreams to hunt for the answers that he was seeking - he claimed to grasp the Theory of Relativity in a dream. Thomas Edison was known to sit in a chair holding a metal ball in his hand. He would put a bowl on the floor, below the ball. As he would start to drift off to sleep, if he didn't keep himself in between the waking and sleeping state, the ball would drop and awaken him. It was in this state, called the hypnagogic stage, which he claimed to receive the insights and inventions that are still so widely used to this day.
The method of witnessing is a beginning-level technique you can start using right away to develop your own inner psychic voice. The technique works like this - When you have an emotion, such as when you encounter a challenge in your life, instead of just feeling the emotion and reacting to it, step back and observe it.
Pay attention to where you feel the emotion in your body. If you had to give the emotion a shape, would it be a circle, a triangle, an oval? How big is it? If you had to give it a temperature, would it be hot, cold, or somewhere in the middle? As you observe the emotion in this way, you to begin to perceive at a higher level instead of just "being the emotion".
Like an artist that is painting a huge painting - when the artist is up close to the painting, it is difficult for the artist to see anything except what is right in front of his/her face. When the artist steps back ten feet, it then becomes possible for him/her to perceive the painting for what it is, to see the whole product.
It is in this space beyond your thoughts and emotions (or better yet, in between them) that a greater awareness of who you are lies. It is also in this space that psychic ability exist. The more you encounter this state, even in the roughest of times, pay attention to any impressions you receive - thoughts, images, hunches, etc. This is how the psychic process begins.
In this state of "witnessing," the answers and insights you receive are more reliable than the surface level reactions that most people base their decisions upon. This is a beginning-level exercise, but it's a step towards gaining greater awareness to your own inner voice. More and more, as you gain access to your inner voice, you gain the ability to make wiser decisions - it's about helping you to achieve more, and making your life more fulfilling and easier.
For more in-depth training to develop your own psychic voice, please see the Institute's Psychic Development Course