Psychic Secret - The Big Myth About Psychic Development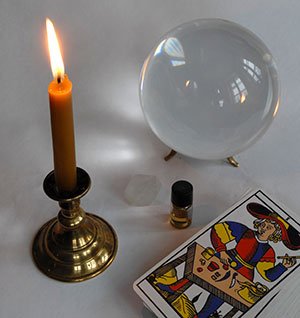 Is there a big psychic secret that most psychics won't tell you? When you think of psychic development, what ideas come to mind? Most people think that to develop psychic ability, you have to learn how to do something new. That would make perfect sense right? To develop something that you 'don't have,' you have to do something new?
This approach of 'doing something new' is what most systems of psychic training take. Here are some of the classic advertising titles you will find if you research psychic development:
'Become Psychic By Learning How To Read Palms!'
'Develop Your Psychic Ability By Taking Our Tarot Card Reading Class!'
'Become Psychic Through Our Special Spiritual Alignment!'
'Brainwave CDs Guaranteed To Give You Psychic Perception!'
Despite these types of claims, the Big Secret about psychic development is that you are already psychic. Using psychic perception more in your life isn't so much about learning a new skill; it's about getting rid of what is blocking the psychic ability that you already possess.
Some so called 'psychics' will try to mislead you from this truth. They claim to be born with the gift. They claim to be third generation psychics, or they gained psychic sight after being 'touched by an angel.' Most of the time when people say these types of things, it's because they want you to think that they are more special than you are, and that you can never be like them. This is just their justification of why you need to keep paying them to give you psychic insights.
Ignore these people. You can do anything that they can do with the proper training and experience. I know this because I have personally trained all types of people to develop psychic abilities – police, psychologists, nurses, art students, body builders, homemakers, you name it. I've taken people that had limited psychic perception and helped them get to the point of demonstrating anything that any commercial psychic can do.
What Makes Some People More Psychic?
Even though you have the potential to be as psychic as anyone else, you still have to examine why some people are more psychically accurate than others? Why is it that some of people have gut feelings and hunches that are 'right on' and others are in the 'not even close' range?
What blocks people from being able to receive accurate insights from the universal mind, collective consciousness, God, or whatever you call the all-encompassing intelligence that links everything together?
Here's a real life example to consider -
John is single and he would like to be in a relationship. One night, John's friends introduce him to Lisa at a coffee shop. John's been hurt before, so he only wants to be with someone that's sincere, fair, and respectful.
John tries to 'psychically focus into' Lisa to see what she is really like on the inside. John's been fooled before, so he's careful not to just believe what someone says or base opinions on the way someone acts.
Now if John had a good amount of psychic ability, he could see how Lisa has been in past relationships, how she will likely be in a new one, what she really wants in life, if she's giving or if she's an opportunist, even what she does professionally (there are no secrets in the psychic world).
John would be able to see all of this without any previous information about Lisa. Depending on what he saw, John could continue on, or he could remove himself from the situation and save months of potential suffering, betrayal, and depression.
But instead, John hears in his mind what his friends told him about Lisa - "She's really nice." He feels the awkwardness of meeting someone new. When he tries to psychically focus in, he doubts himself. And John is feeling a strong concern about how Lisa feels about him.
Because of his emotional, mental and spiritual reactions, John is blocked psychically - he has no ability to see Lisa on a deeper level. This happens to people everyday in so many ways.
So when you are cut off from the universal intelligence, it's usually your emotional, mental, and spiritual health that is 'clouding' your connection. You can measure how 'clear' you are by your degree of psychic ability. If you aren't psychic, then something in you is blocking it.
When someone claims to be 'tapped in' to the universe, it is a little more believable if they can give a demonstration. It makes a statement when someone can 'pick up' information about something two hundred miles away, or if they can take away someone's headache using only psychic ability.
How can you expect to receive psychic information if your thoughts are racing a thousand miles an hour or if you have negative emotions and beliefs dominating your attention? By taking daily steps to detoxify your mental, emotional, and spiritual states, you become more receptive to the vast 'universal intelligence' that we can all have at our fingertips.
In other parts of this guide, I offer some very effective methods for helping you to get a start with psychic development. At the same time, if you want to go deeper into this type of training, at some point you have to consider this 'clearing process' that I am sharing with you. Without removing the obstacles that are in your way, you can only go so far down the path of psychic perception.
Psychic Secret - How Is This Psychic Development Approach Different Than Other Psychic Training Methods?
For starters, you will be much less limited in what you can see and do on a metaphysical level. You open yourself to a larger range or psychic ability and experience, especially when you compare this approach to something like a Tarot Card Reading class.
Everyday people get caught up in gimmicks, rituals, and dogma in this type of work. Some methods of psychic training make it easy to forgot about the true meaning that's behind the props, showmanship, and guru worship. These external methods of psychic development are only going to give you a taste of what you can really accomplish, if that.
Just ask yourself - "Do you want to just peak through a crack in the door to see the outside, or do you want to walk through the door without looking back?" Some people just want to peek, others don't even want to know at all, and others would just rather have someone else tell them what's on the other side.
On top of strengthened psychic ability, there are the benefits that go along with this approach of facing and working on yourself. For example, instead of reacting to beliefs and emotional patterns, you gain the ability to feel and think how you want to (most people can't actually do this).
This simple skill by itself has a direct effect in every aspect of your life: your ability to strengthen your relationships, your physical health, your financial success, and your sense of peace. Even if the psychic ability didn't exist with the approach I'm sharing with you here, these benefits alone are what make this method appealing.
How Do You Remove The Obstacles That Block Psychic Ability?
It's much easier than most people think. You don't have to meditate for five hours a day, go to group therapy for ten years, or walk barefoot across hot coals.
At the same time, for most people, it's difficult to get rid of personal obstacles without some type of proper training. Most people don't have the psychological/spiritual tools to effectively remove what is getting in the way of natural psychic and healing ability.
On top of this, conventional approaches to personal growth such as antidepressants and 'talk therapy,' do not give us what we need to heal ourselves on a deeper level.
For example, it's difficult to see what is blocking us when we are in our normal state of mind (talking to a counselor, etc). This is why many people benefit from training that teaches techniques for shifting easily and safely into deeper levels of awareness.
It is in these states that your deep-rooted patterns of thought and emotion can be reached and removed. These 'inner obstacles' are difficult to change in ordinary states of consciousness (for example, by talking about them, affirmations, contemplation, etc). Shifting into deeper levels of awareness is what is usually necessary to overcome such patterns.
"Problems cannot be solved at the same level of awareness that created them."
Albert Einstein
So please consider what I am sharing with you before you go out and buy a book on palm reading, tarot cards, or some other approach to being psychic which involves learning to do something new. Many people hop from book to book without ever gaining a sense of a deeper psychic awareness.
Instead, consider taking more actions to clean up whatever is blocking your connection. Regardless of how conscious you are, there is always room for improvement (when is the last time you levitated)?
The obvious first step is to sign up for a course or find a good teacher that offers effective techniques of mental, emotional, and spiritual cleansing/psychic development. If you can find someone locally, great. If not, I offer a powerful course here at LifeLeap Institute which is available correspondently or in-person: Click To See Course Details
Also, proceed cautiously if you do decide to teach yourself through metaphysical books or other independent training. Psychic perception is like money - it's powerful but it needs to be respected. A good teacher can help you grow faster, avoid the traps, and make your journey easier, overall.
As you develop more mental and emotional clarity, you will naturally experience more psychic ability and healing in your life. This will enable you to access solutions for many of the challenges you are facing, communicate better with others, and face life with more joy, intimacy, achievement, and awareness. Enjoy the journey.