Psychic Love Spells, Curses, Charms, & Spiritual Cleansings - Get The Truth Before You Give Away Your Money, Trust, And Self Respect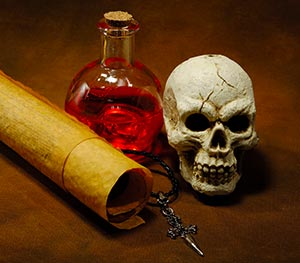 Throughout the years, so many people have told me of their horror stories of paying psychic scammers for spells and cleansings or to have a so-called curse removed. I've seen one situation after another of people being victimized financially and emotionally.
When you are dealing with a psychic spell, there is no way to guarantee the results. For example, how can someone really guarantee to "reunite a lover?" Scammers love these types of services though because you have to pay them now for something that won't be measurable until weeks or months later. Once you've realized it didn't work, it's too late – your money is long gone.
This is why these types of scammers often insist on receiving payments though cash or Western Union (money wires). This makes it impossible for you to get your money back. If you complain to the scammer, they avoid you or they even take it a step further, and insist that it's a strong hex and they need more money to do more spell work. By the time you get back in touch with them to find out what happened, half of them will have changed their phone number (a common trick to avoid confrontations).
The Sickest Of All Tactics Is The "You Have A Curse Scam."
It takes the most evil kind of person to tell a mother that their child has a curse, and that if money isn't paid to remove the curse, the child will die. Unfortunately, I've seen these types of tactics more than I'd like to admit. Psychic scammers will use a different version of this with relationships - they will tell you that your distant lover want's to be with you but there is negative energy or a curse that is preventing this from happening. The fees to remove the curse may start off small, but then they grow over time as more "curse removal" work is required.
These situations can be tricky, because sometimes a psychic scammer has some psychic ability and uses this as leverage to pull you into a scam. They may see and reveal accurate details about your life, and then claim to also be "seeing the curse" that you have in your relationship, career, etc. Many people fall into believing that if a psychic is accurate about one thing, then they must surely be accurate about everything else (or they must be trustworthy).
The same goes with psychic healings and spiritual cleansings. You have to approach these things very carefully. How can you possibly measure if you have actually been cleansed? How can you tell if your chakras have actually been aligned? Maybe you can, but unless there is a measurable result that can be guaranteed, you could be wasting your time and your money.
Do Psychic Spells, Charms, And Cleansings Really Work?
Here's the real deal – when you give money for spells, curse removals, charms, and cleanings, especially the ones that will be done at a later time, you are probably just throwing your money away.
Most of the people that offer these things, especially over long distances, never really do the work. They just take your money and laugh at you. They are the modern day snake-oil salesmen.
If you study human nature, you will discover that human beings have a tendency to be selfish and lazy. The environmental effects of pollution, waste, and over consumption on the planet are a great indication of this. Ask anyone that has business management experience - if someone can sit and do nothing and get paid for it (i.e an employee), they usually will. This is what the spell-working scammers do.
Even if someone has really acquired some ability to manipulate situations using metaphysical means, you have to examine the possibilities and ethics of this situation. If something just isn't meant to be, no spell of charm is going to force it to happen. Even if it did work, wouldn't this be similar to kidnapping? You always have to ask yourself, how would you feel if someone used a spell to manipulate you?
The select few people I've met that "might" actually be able to influence someone on psychic/metaphysical level, wouldn't touch a situation like a love spell, money spell, or any spell for that matter. Individuals who earn this level of power, respect it, guard it, and use it only in healthy situations. Ironically, the people I've met that have this type of power, rarely if ever use it. This attitude goes with the territory.
And most important, none of these people would never ask or take large sums of money to manipulate a situation. So your chance of finding someone to do something like this for you is non-existent. I've personally met thousands of people in this field throughout my life and have never encountered anyone who would/could legitimately do these types of things.
The people who claim they can, are always the ones that have the least, if any amount of power. They are the bottom feeders of the the psychic/spiritual/metaphysical field. They steal money by exploiting people's loneliness, fears, insecurities, sickness, weaknesses, and depression. They are the parasites who take and take, but they never really give anything back except false hopes, broken dreams, and deeper suffering.
Experience Tells It all
I've never had a client call me and tell me another psychic did a spell that helped them to get their lover back or brought them millions of dollars (and I work with over a thousand clients a year). Spells and cleansings can't take the place of patience, inner work, respect, persistence, self responsibility, better communication, acceptance, and couple's counseling.
Now a good psychic can help you diagnose what the real problem is in a situation, help you to come up with a plan of action that's specific to your circumstances, and maybe even see what the probabilities of the future hold, but I'd be careful about expecting more that this.
Remember, you're hearing this from someone who has extensive experience in managing large teams of psychics. I'm the one that would get the sad truth from customers that had been scammed. I'm the one that would confront the psychic scammers and fire them. I never once remember one of these people having any dignity. When confronted about their scams, they would always just lie or offer to pay to avoid the police. You could hear the deceit and guilt in their voice – just like a child that got caught in the cookie jar.
Remember, I'm also the one that works as a real professional psychic. My clients are police officers, CEOS, attorneys, doctors, engineers - every type of person. Because these people feel so good about my accuracy and credibility, they are willing to share their names and faces as endorsements.
You won't see this on the website of the scammer who offers to "Bring Back Your Lover." You won't see these signs of proof because there isn't any proof. You may see a guarantee, but then when it comes down to it, you'll usually get demands for cash, Western Unions, and other non-traceable, non refundable methods of payments.
I'm not stating these things as a desperate attempt to turn you into one of my clients. I've just trying to emphasize my credibility so that you will consider the points that I've made in this article. A good psychic can help you in a rough situation. I've relied on insights from other professionals like myself at challenging points in my life. I've gotten good direction at what steps I could take to give me the best chance of getting what I desired.
So just as with any professional service, there are people that are good at what they do - you have to approach these things intelligently.