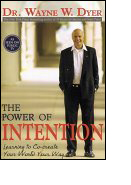 I've been exploring the works of Wayne Dyer for many years now, and I'd have to say this is one of my favorites. Although the title my leave you thinking it's just another "positive thinking" book, it goes much deeper into the mechanics of spiritually manifesting what you want in your life, whether in relationships, health, career, or finances.
Even if you are a master at creating your own universe, surely there is something to be learned, or at least reminded of in this book. Wayne really does a great job of explaining some of the underlying core concepts behind creating spiritually, which I think are lacking in "The Secret" and other similar resources.
If you are into "quick fixes" and "instant gratification," this book may not be for you. It's more about perceiving and living with a deeper sense of spirituality and tapping into a power that goes beyond the personal ego – these things often involve a great deal of inner work, but it's a path to consider.
Of course, Wayne Dyer is a best selling author, so you can probably find this work at any major bookstore (or online through Amazon). Check it out and let me know what you are able to "intend" with what you learn.