How To Visualize - Simple But Powerful Methods For Developing This Life-Changing Skill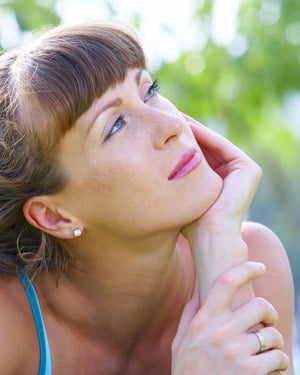 Visualization, or the ability to hold an image in the mind's eye, is one of the most important skills to master when you are developing psychic abilities. This skill is also necessary when you are spiritually manifesting people and events into your life, such as more money, a romantic partner, etc.
Seeing visual images in your mind is one of the best ways to receive psychic information. I use this method often when I'm working with a client in my Psychic Counseling service.
When I focus my attention into a client's life or on a distant location, I'm able to see accurate pictures about the situation that I am addressing. I will often see clear descriptions of the people involved and other key details that I need to know. It's similar to watching a TV screen, but it's all occurring within the mind's eye.
If you are like most people, you visualize on a regular basis - Maybe it's when you are daydreaming about what you are going to do on the weekend or maybe it's when you are trying to remember where you left your car keys. Even though visualization is a common occurrence in most people's lives, to be able to do it at will and on demand usually requires some training and practice.
How To Visualize: A Step-By-Step Approach
The best way to strengthen this skill is a series of simple exercises. Practice these exercises on a regular basis and your power of visualization will increase. The best mindset with these types of exercises is to have fun with them. Play with them as a child plays a game.
So let's jump right in and give you some ideas about some games that you can play. Start off by finding a quiet place that gives you privacy. A bedroom or living room is fine. Find an object that you can use for this exercise. Pick something simple at first, such as a plain coffee cup or even a small piece of blank paper. Until you get good at this, stay away from complex items such as car keys or anything that has lots of colors, designs, textures, etc.
Sit down and get yourself comfortable. Put the object on the table in front of you. Lean over where your face is two or three feet from the object. Now with your eyes open, look at the object. Study it in detail. Notice any glare from the light in the room. Pay attention to its texture. Is it smooth or is it coarse? Study it and get as many details as you can.
Now close your eyes. In your mind's eyes, picture the object as if you were still looking at it. If you have a rough time at first, just make something up. Try to get as many details correct as you can. Now open your eyes again and look again at the object. Study it in great detail for a few moments.
Keep going back and forth like this for five or ten minutes. Play around with the exercise a couple times a day to get good at this skill. Start off simple and then eventually make it more challenging. The next time you are at a bookstore, sit down and put a colorful book in front of you. See how well you do.
As you improve, start playing around with more advanced visualizations. Imagine what a room would look like from a top corner. Image what a city would look like from a tall building. The whole idea is to be able to visualize anything that exists – to be able to hold a good, clear and detailed picture in the mind's eye. By the way, the most common mistake people make with this is not making the visualization clear and detailed. So work at it a bit to make sure you get it right.
Advanced Methods Of Visualization
When I am using psychic ability or I am working to spiritually manifest something in my life, sometimes I don't like to close my eyes. This can be a limitation and can be quite odd, especially if you're in the middle of a conversation or outside walking down a street.
You eventually may want to develop the skill of visualizing, but with your eyes open. Here's how you do it: Let's go back to the first exercise where you were sitting in a quiet place with a simple object in front of you. Just as before, look at the object, close your eyes and create the object in your mind's eye, open your eyes and look at the object, etc.
Now let's take it to the next level. With your eyes open, look at the object. See it there on the table in front of you. See how it looks on the table (even pay attention to where it is on the table). Now close your eyes. Reach out and take the object into your hand and remove it from the table. Now open your eyes and look at the exact spot on the table where the object was before you removed it. Now in your mind's eye, with your eyes still open, visualize the object as if it were still on the table.
This exercise can be a little tricky at first, but with some practice, mastering this technique is easy for most people. This allows you to use the power of visualization without having to close your eyes.
Practical Uses Of Visualization
If you've seen any of my previous psychic development articles, if you've seen 'The Secret,' or read 'Think And Grow Rich,' then you've been exposed to some of the uses of visualization. But in case you haven't, let me give you some ideas.
When you are about to leave to go somewhere, like a friend's house or coffee shop, visualize that location and see what you can pick up psychically. In your mind's eye, just image what it will look like when you arrive. When you arrive at the location, check your accuracy. This is a fun but helpful game to play to start sharpening your psychic awareness. This exercise is good to use right before you meet someone for the first time, or to locate available parking spaces in a seemingly full parking lot, etc. Play around with this – have fun with it.
To spiritually manifest a person or event in your life, visualize in your mind's eye exactly what you want to create. See it as if it's happening right now, not as if you were wishing it would happen in the future. As you are visualizing, feel the emotions of desire and expectation. Many great people throughout time have sworn to the effectiveness of this simple activity.
"What the mind can conceive and believe it can achieve."
Napoleon Hill
Author of Bestseller
'Think and Grow Rich'
To spiritually manifest a person or event in your life, visualize in your mind's eye exactly what you want to create. See it as if it's happening Keep working at your ability to visualize. This is a skill that will affect every area of your life for as long as you live.
I will cover more practical uses of visualization in upcoming articles. Combine visualization with other skills (emotional control, concentration, etc) and you've got a winning combination.