Get The "Insider Information" On Choosing A Good Psychic & How To Get The Most Out Of Any Reading
I'm Dale Sellers, the founder of the LifeLeap Institute. For years, I've worked in professional settings where I've trained, tested, hired, managed, investigated, and sometimes fired professional psychics. I've worked in management positions for some of the Top Psychic Networks. I know what to look for in a good psychic, but I also know all the scams in this line of work.
As a professional psychic, my psychic abilities have been repeatedly tested in numerous situations - with police, psychologists, corporate executives, you name it. I've conducted thousands of consultations with people in all walks of life - worldwide. I've worked side by side with some of the most famous celebrity psychics in the world
But I didn't create this site to market myself. There is an Serious Epidemic right now of people getting scammed when they just want help from a good psychic. I sometimes get five calls a day from people telling me sickening stories of how they contacted a psychic and then went through a nightmarish experience that left them brutalized emotionally and financially. I've talked with many people who have lost thousands of dollars from psychic scams.
These are people that are hurting inside and just wanted some direction and understanding. These are educated people and business owners who don't get fooled easily. But the psychic scammers are good at what they do. Some of them have perfected their skills for a lifetime.
Don't get me wrong, there can be many benefits in consulting with a psychic.
It's just best to go into the experience with some awareness. When you call or see a psychic, you are putting yourself in a vulnerable situation.
You are likely to make serious decisions in your life that could have permanent effects. You will likely invest a substantial amount of money. Despite the "10 free minutes" advertisements to hook you in, most psychics (including the networks) are charging between $120 to $540 an hour (usually more towards the high end).
I created this site because somebody who knew what's going on needed to do it. Too many people are going into this uneducated. Too many people are getting scammed.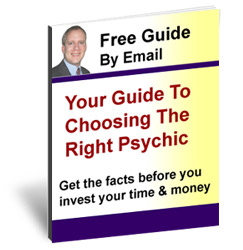 Enter your name and email below to get the best free psychic development guide which includes articles, videos, and more. I take privacy seriously - your information is never shared and you can unsubscribe at any time. Your free guide starts today:
* Please double-check and make sure you entered the correct email before submitting or you will not be able to receive your free guide.
I'd be a jerk if I just continued to sit by and watch it happen.
Because of my position, I'm able to give you the inside scoop so you can avoid the landmines. And no, I'm not trying to bad-mouth my competitors so I can get more clients. If you decide to take advantage of one of my services, that's great. But that's not why I got you here.
I have created a Free Guide "Get The Facts About Psychics." In this guide, I show you how to specifically avoid the numerous psychic scams that you are destined to find on your search for a psychic. I also show you what to look for in a good psychic and how to get the most out of a reading/session.
To really explain everything to you, I've broken the guide into separate parts, all of which you receive by email, with the first one being today. I've discovered through years of teaching, that sharing information like this in parts, over a period of time, is the best way to learn.
I will also send you occasional updates with new articles, reviews, and expert interviews. I love the sense of justice that I get from giving you this information - don't let it pass you by.
Get Your Free Guide "Get The Facts About Psychics." (separate parts by email)
Just enter your name and email above and you will receive the first part of your guide By Email within 24 hours. I pledge to NEVER Spam you or sell your email address to anyone. You can unsubscribe at any time, no questions asked. 
Your Free Guide Starts Today.
Sincerely,
Dale Sellers